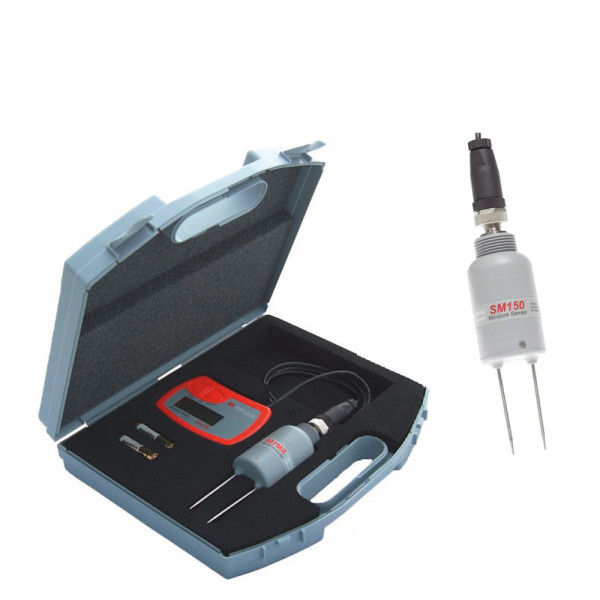 SM150 soil moisture sensor
Measuring the volumetric soil moisture
The SM150 soil moisture sensor determines the volumetric soil moisture (m3 water/m3 of soil = vol. %). It operates based on the FDR (frequency domain reflectometer) principle. An electromagnetic field of 100 MHz is generated by the transmitting rod in the probe. The permeability of the soil field is then measured by the receiving rod. The permeability depends on the water content of the soil, the soil type and the amount of entrapped air. A measure of the permeability of this electromagnetic field is the relative permittivity. Since the relative permittivity of water is much greater than that of soil or air, the measurable change in the electromagnetic field is determined mainly by the soil moisture.
This type of measurement has a very low sensitivity to the salt content (salinity), temperature, and soil type. For more accurate measurements, it is possible to distinguish between mineral (sand, loam, or clay) soils and organic soils. Measurements from the SSM 150 soil moisture sensor can be displayed using the HH150 portable analysis unit.
Data from multiple SSM 150 sensors can be recorded using the GP1 data logger and then imported to a PC. A maximum distance of 100 metres between the sensor and the data logger is possible. Irrigation can be controlled by taking advantage of the programmable relay output.
ARTICLE AND PRIZES
Art.-Nr.

Article

Cart
30008049
HH150-KIT
€ 767,55
Measurement kit for determining the volumetric soil moisture – consisting of the HH150 display unit (no storage memory), the SM150 probe and the portable case
Art.-Nr.
Article Accessories
Cart
30008038
Tube extension, 50cm
€ 71,40
30008039
Tube extension, 100 cm
€ 84,49
30008042
SM150 soil moisture sensor
€ 317,73
30008051
Connecting cable, 5 m
€ 64,26
Additional accessories are available on request
Show Cart
TECHNICAL DATA
Measurement range:
Soil moisture: 0 to 70 %
Degree of accuracy:
0.1%
Precision:
±3.0%
Salt error:

± 5% in the range of

1 to 10 mS/cm

Operating temperature:
-20 to +60°C
Sample volume:

ø min. 70 mm,

Depth: min. 55 mm

Power supply:
Two 1.5-V AAA batteries
Dimensions and weight:

ø 40 mm,

length 143 mm,

0.1 kg